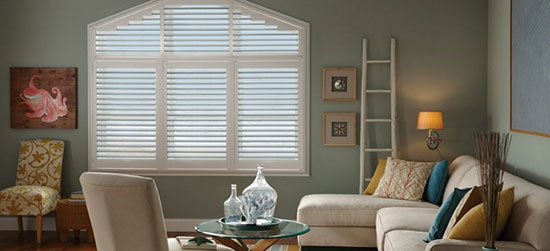 What type of window covering will work best for me?
Whether you need privacy, light control or thermal efficiency, an experienced decorator will help you identify the best treatment, texture and color to match any decor.
Do I need to measure the windows to get a price?
We don't charge any fee to come to your home and measure your windows. This also ensures a custom fit for your home. In addition, we are able to address any installation issues that may arise. But if you just want to get an idea of pricing you can call or email us with your measurements.
The sun wakes me up every morning. What do you have that will keep my room dark?
There is a variety of products to help darken a room. Depending on your budget we have everything from two inch aluminum blinds to wood shutters. We also offer a large selection of opaque (room darkening) textures and fabrics that will dress up any room, whether it's a master bedroom, nursery or media room.
What options are available if I don't want the cluttered look of all the strings in my windows?
You have several choices ranging from cord free lift control to motorization. There is an increasing amount of window coverings that can be motorized. If you are building a new home or remodeling, a hard wired system might be your best option. We also offer solar recharge packs for battery operated blinds.
How long do I have to wait for my new window coverings to be installed?
Depending on the treatment you choose, you can have your new window coverings in as little as two to five weeks!
How much will I save if I install the window coverings myself?

The average installation costs only ten to twenty five dollars per blind. We are licensed, bonded, insured and warranty all of our installations. Isn't it comforting to know it's done right? We even install for some of our competitors!
Isn't it cheaper to just go to one of the big box stores?
Not only do the big box stores charge more for their custom blind "deals", but our service is far superior to any experience you could hope to have with someone that wears a blue or orange apron and "specializes" in window coverings, plumbing and garden supplies. We don't sell flooring, plumbing, painting or counter tops. But we do sell everything from window coverings to window tint to exterior shade screens. We cover anything that has to do with your windows!